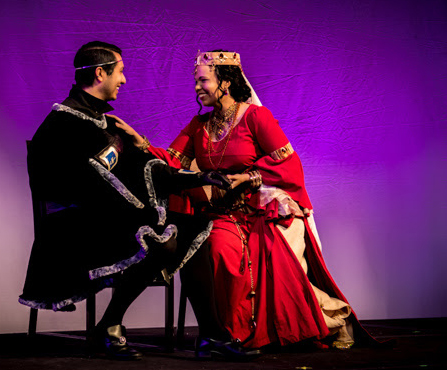 The Masquerade is a costume showcase and display of creativity by your fellow convention members. Entrants may dress as anything interesting and fun so long as they can motor themselves across the stage and back. You'll find a variety of BEMs (Bug Eyed Monsters), Transformers, faeries, royals, dragons, cosplayers (anime-inspired costumes), movie and TV characters, and just plain silly people in costume. This is a judged event and is a highlight of Arisia. If you're not part of the show, come cheer on your fellow fen. All entries are judged in one of four separate categories (Young Fan, Novice, Journeyman, and Master/Craftsman) to give everyone a fair chance.
The Masquerade will probably be Sunday night at 8 PM.
Masquerade Rules
Please read all the Masquerade Rules before signing up.
Arisia uses the skill division set up by the International Costumers' Guild. If you are unsure what division you should compete in, please read the Skills Division section of the Masquerade Rules. Please contact the Masquerade Director (@email) with any questions.
Halftime Entertainment
After the costume presentations are done, and while our esteemed judges are off determining the awards for the evening, our entrants are given the option to participate in the Tactile Masquerade in the hallway, which allows attendees to get an up close view of the costumes. Inside the ballroom our halftime acts will entertain you until the judges return for the awards presentation.
We will announce the halftime acts here once they have been selected.
2023 Masquerade Winners
Young Fan
Workmanship
Best Creation – Princess Mononoke – Lilit Shabry-Lichter
Best Material Manipulation – Xornoth – Trice Eliet
Most Masterful Use of Technique – Lord of the Rings – Devorah and Arin Martin
Presentation
Most Beautiful – Princess Mononoke – Lilit Shabry-Lichter
Bringer of Evil – Xornoth – Trice Eliet
Best presentation – Lord of the Rings – Devorah and Arin Martin
Novice
Workmanship
Best Artistic Realization -- Doubtful Guest  – Rowan Parker
Best Original Character -- Telo Rodo – Claire Maiocco
Best Embroidery -- Alina Starkov – Gabriella Lipsitch
Best in Class – Arcane Enemies – Lucy and Vera Backman
Presentation
Honorable Mention -- Nazuna Hiwatasha – Deer Princess Cosplay
Best Audience Capture -- Figueroth Faeth –  captainswan618
Best Choreography -- Telo Rodo – Claire Maiocco
Most Humorous -- The Doubtful Guest  – Rowan Parker
Best in Class – Arcane Enemies – Lucy and Vera Backman
Journeyman
Workmanship
Best Original Character -- Rosie the Maple Moth – Locomania
Best Armor -- Blaidd the Half Wolf – VulpireCosplay
Best Attention to Detail -- Sorin Markov – Matrix Vampyre
Best Effective Use of Materials -- Fire Lord Azula – Inevitable Betrayal Cosplay
Best in Class – Lolita Korok – Kirkette Cosplay
Presentation
Honorable Mention -- Lolita Korok – Kirkette Cosplay
Best Anime Recreation -- Lemillion – Theresa Pereira
Best Interpretation -- Sorin Markov –  Matrix Vampyre
Best Recreation -- Fire Lord Azula  – Inevitable Betrayal Cosplay
Best in Class – The Magic of Technicolor – Raven Stern, Julia Rampone
Craftsman/Master
Workmanship
Best Approach to Practicality – Bayonetta – Michelle Light
Best in Class
– Shadowcat – Jean Colley
Presentation
Best in Class
– Bayonetta – Michelle Light
Best in Show
Workmanship
Magic of Technicolor – Raven Stern, Julia Rampone
Presentation
Blaidd the Half Wolf – VulpireCosplay